Accident & Emergency
99616 30000


Cardiology
Best Cardiology Department In Kochi.
VPS Lakeshore's Department of Cardiology covers all heart-related diseases, employing experts and futuristic facilities together. Capable of making the most accurate diagnosis and providing supremely effective treatments, the Cardiac Institute at VPS Lakeshore stands apart in quality of service.
The well-experienced, dynamic team here shows readiness to attend to patients at any time and is highly successful in handling cases both minor and major. The Department is noted for its ability to maintain consistency in great results at its major facets like Interventional Cardiology, Pediatric Cardiology, Cardiac Electrophysiology, Cardiac In-patient and Out-patient Services & Intensive Care services.

Interventional Cardiology
Interventional Cardiology is one of the most demanding form of heart care, which deals with all heart problems with the use of minimally invasive procedures. The Interventional Cardiology wing offers treatment of heart diseases as well as rectification of cardiac disorders at any stage. Each member of the team here, is specialized in one or more areas and has proven their expertise, thereby paving way for the fast recovery of patients.
Paediatric Cardiology

Providing extensive care and holistic treatment to children affected with cardiac problems, the section of Paediatric Cardiology at VPS Lakeshore is manned by highly qualified and Experienced Pediatric Cardiac team. A wide range of heart diseases even in newborns, are managed impeccably. The team is highly specialized and performs complex tasks and procedures with ease, meeting the highest standards.
Cardiac Electrophysiology & Device Therapies
The Electrophysiology section focuses on patients experiencing issues with the heartbeat and electrical signalling. Complex conditions like Atrial Fibrillation, Ventricalar, Tachycardia, Wolff Parkinson White syndrome, etc are all dealt with, systematically using electric mapping of Radio Frequency Ablation. The approach towards rhythmic issues are different, with high specialization involved. The procedures here are for diagnosis and treatment as well. The center has a dedicated Electrophysiology team for device implantation, including Latest Pacemakers, ICDs & Heart failure devices ( CRT, CRTD etc.)
Structural Heart Diseases
Structural Heart Disease covers major heart conditions which includes valvular heart disease and issues in the heart's muscular structure. The highly potent team of VPS Lakeshore's Cardiology department is efficient in diagnosing and treating complicated valve problems. Our skilled Interventional cardiologists, cardiac surgeons and vascular surgeons provide advanced medical solutions, nonsurgical methods and surgical measures to meet the patients' needs.
Outpatient & InPatient
Outpatient care is given all 7 Days a Week, with Echo Cardiology, Thread Mill Test, Holter, Ambulatory BP etc. for appropriate patients. This along with clinical acumen of our Consultants, facilitates Quick Diagnosis & effective management of the patient.
Cardiac Intensive Care
The Heart Institute has multiple levels of intensive care, including Intensive Cardiac Care unit (ICCU), post cath lab ICU, Step Down Care ICU, Cardiac Surgical ICU, Isolation and Private ICU's. These ICU's are equipped with state of the art multi parameter monitors & ventilators and have round the clock physicians and 1:1 Nursing care.
Dr. Anand Kumar V
Senior Consultant & HOD
Qualification
MD, DM (Cardiology), FESC, FACC, FSCAI, Fellowship by Royal College of Physicians (FRCP)
Experience
Worked as Consultant Interventional Cardiologist at Yashoda Hospital, Hyderabad from 2003 to 2005.

Credited with starting the First 24 hour enabled Primary Angioplasty center in Central Kerala in 2006 at Lakeshore Hospital.

Did the first across joint peripheral angioplasty in South India using flexible stent technology in 2009.

Started the first Advanced Hypertension Clinic in Kerala in 2006 with 24-hour Ambulatory BP monitoring service.

Served as Principal investigator for over 10 multinational multicentre clinical trials.
Other Information
Key Highlights
Interventional Cardiology
OCT/IVUS guided Angioplasty.

IVUS Core Registration for precise stenting.

Drug Eluting Stent for Peripheral Arterial Disease.

Post Transplant Renal Artery Stenting.

Chronic Total Occlusion Angioplasty.
Pediatric Cardiology
Fetal Echocardiography in high-risk pregnancies to detect heart disease of the baby in the womb.

Neonatal Interventions- Percutaneous treatment of heart disease in newborns.
Structural Heart Disease Management
Transcatheter Aortic Valve Emplacement (TAVR)

Thoracic and Abdominal Aneurysm Stenting and Hybrid Stenting + Surgery

Thoracic and Abdominal Aortic Aneurysm Hybrid treatment (Minimally Invasive Surgery + Stenting)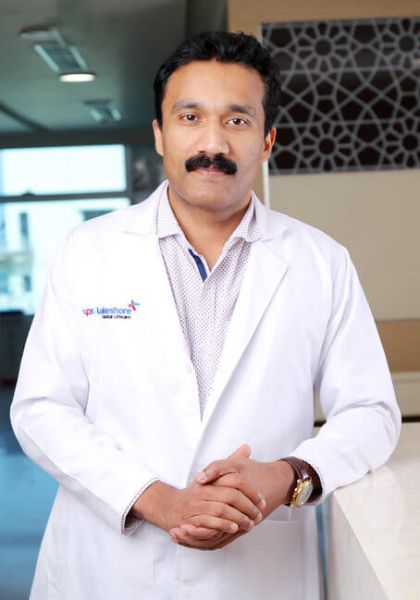 Dr. Anand Kumar V
Senior Consultant & HOD