Accident & Emergency
99616 30000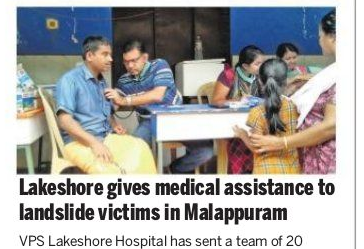 August 17th 2019
Kerala Flood Relief Medical Camp
At a time when thousands of people in Kerala are reeling under extreme distress due to floods, VPS Lakeshore hospital has sent a team of 20 medical professionals including doctors and nurses to provide medical assistance to the victims in Malappuram district.
The team led by Dr. Dennis P Jose from VPS Lakeshore has started a medical camp at Pothukallu panchayat in Nilambur to extend their services to the flood victims in the region. Pothukallu was one of the worst-hit areas, which was ravaged in the floods.
The 20-member medical team is all equipped to meet the immediate demands of the floods victims of the region, said Dr. Dennis P Jose. "The team will be working in coordination with the health department to mitigate the chances of the spread of communicable diseases," he added.