Accident & Emergency
99616 30000


Qualification
MBBS, MS (ortho), Fellowship in Foot and Ankle Surgery (USA), AO Expert Fellow in Foot and Ankle (Australia)
Experience
Dr Rajesh Simon, Senior Consultant Orthopaedic Surgeon has been a pioneer foot
and Ankle surgeon in South India.
He has been working in VPS Lakeshore Hospital since 2003. He started his work as An Orthopaedic Trauma surgeon and went on to be a recognized trauma surgeon. He is a regular AO faculty and has chaired various AO Trauma courses for the benefit of many Trauma surgeons in India.
After taking Fellowship from the University of Alabama, the USA in 2015, he started Kerala's first and till date only exclusive Foot and ankle clinic. He further donned his skills when he was awarded, meet the Expert fellowship of AO in foot and ankle from Royal Northshore Hospital Sydney Australia.
He has been treating all orthopedic ailments of foot and ankle which includes non-operative and surgical treatment with the aim of providing quality one-stop service to the patients suffering from simple to complex Foot and Ankle problems and deformities. There have been many first surgeries of Foot and Ankle Ailments in Kerala done by him. He has successfully operated on various gross deformities, Charcot foot and ankle and also does sports medicine surgeries on ankle and foot including arthroscopic surgeries.
He has been an invited faculty in various international and numerous national seminars and conferences. He also has held various positions in various societies. He also has conducted various national conferences in both Foot and Ankle and Trauma as well as AO courses.
He has been the Past President of Cochin Orthopaedic Society, Past Hon Secretary of Indian Foot and Ankle Society, Past Joint Secretary of Kerala Orthopaedic Association.
Other Information
Pioneer Foot & Ankle surgeon in South India.

Achilles tendon and Haglund complex repair and reconstruction.

Plantar fasciitis: Non-operative and Operative management.

Foot & Ankle sports & cartilage injuries.

Acute and chronic ankle pain management for sports individuals.

Complex ankle and foot fracture management.

Flat foot management: Non-operative and Operative management.

Cavus foot.

Congenital deformities of foot & ankle.

Charcot foot & ankle surgeries.

Bunions, Hallux rigidus.

Metatarsalgias, Plantar plate repairs

Claw toes, Hammertoes and Mallet toes.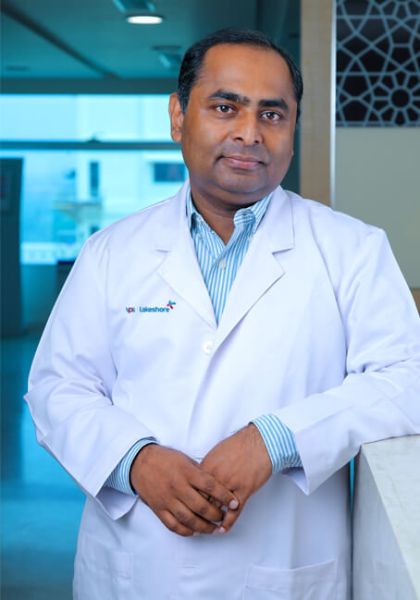 Dr. Rajesh Simon
Senior Consultant - Orthopaedics , Trauma & Foot and Ankle