Accident & Emergency
99616 30000


Qualification
MBBS, DNB Plastic Surgery
Experience
Internship - MGM Medical College, Aurangabad (2011-2012)
DNB Plastic Surgery-Medical Trust Hospital, Ernakulam (April 2014-April 2020)
Consultant Plastic surgeon- Rajagiri Hospital, Aluva (April 2020-June 2021)
Consultant Plastic surgeon -Ikon Hospital, Aurangabad (July 2021-April 2022)
Other Information


Specialization
1. Free flaps
2. Replants
3. Head & Neck Reconstruction
4. Tendon Transfers
5. Management of Brachial Plexus injuries
6. Management of Congenital hand anomalies
7. Gynaecomastia Correction
8. Lipoabdominoplasty
9. Reduction & Augmentation Mammoplasty
10. Hand injury management
11. Limb Trauma management
12. AV Fistula Creation
13. Management of Hypertrophic Scars & Keloids
14. Management & post-burn Contractures
15. Pressure Sore Management
Studies, & Publications & Paper Presentation
Collagen dressing versus conventional paraffin gauze dressing for partial thickness stin graft donor site- A prospective randomized controlled trial.
Paper Presentation of Hand Tumours in KPSA - 2015.
Areas of Interest
1. Reconstructive and Microvascular Surgery
a. Free Flaps (ALT, Free Fibula, Radial artery, Gracilis, Groin, LD, DIEP etc)
b. Replantation of amputated Extremities, Fingers & toes.
c. Head & Neck Reconstruction.
d. Vascular injuries involving the upper and lower extremities.
2. Hand Surgery
a. Traumatic hand injuries (Tendon injuries, hand fractures, microvascular & neural injuries)
b. Flaps for finger defects
c. Tendon Transfers for Nerve injuries,
d. Management of Brachial Plexus injuries
e. Carpal Tunnel & other compression neuropathies involving upper & lower extremity
f. Management of Congenital hand anomalies
3. Cosmetic Surgery
a. Abdominoplasty
b. Gynaecomastia correction
c. Liposuction and Body contouring
d. Reduction & Augmentation Mammoplasty
e. Facelift, Thread lift
f. Blepharoplasty
g. Botox & fillers
4. Other Plastic Surgery Procedures:
a. AV Fistula Creation
b. Non- Healing ulcer management
c. Pressure core management
d. Management of burns & burn sequelae
e. Hypertrophic Scat & Keloids
f. Ear lobe deformity corrections.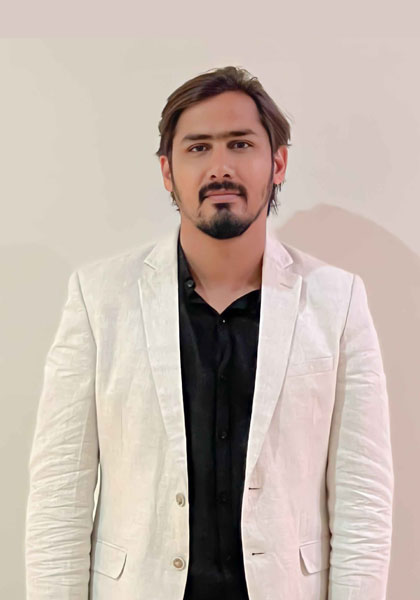 Dr Momin Zakir
Associate Consultant