Accident & Emergency
99616 30000


Qualification
MBBS, MD (Pulmonary Medicine)
Experience
Served as faculty at Amrita Institute of Medical Sciences, Kochi for over 7 years.

Over 12 years of clinical experience including more than 7 years of teaching and research.

Specialised areas:

Snoring disorders and sleep Apnea, sleep study and c-PAP titration

Smoking cessation interventions

Bronchoscopy and related interventions

Achievements:

Trainer certification in basic tobacco cessation skills from University of Arizona.



Professional Affiliations:

European Respiratory Society, Junior member (International level).

Indian Medical Association (National Level).

Association of Pulmonary and Critical Care Medicine (Zonal level).

Cochin Thoracic Society (Regional level).



Other Information
Publications:


Hari Lakshmanan P:Pulmonary Thromboembolism in a young male treated with Embolectomy-A Case report;Pulmon 2006;8:3:95-97.
Ravindran C, Hari Lakshmanan P, Arun P: Syndrome Z- A Case Report;Pulmon 2006;8:3:98-101.
Hari Lakshmanan P, Musthafa A Mohammed, Suraj K P,Ravidran C: Pleuropulmonary hydatid disease treated with thoracoscopic instillation of hypertonic saline; Lung India. 2008 Jan-Mar; 25(1): 34–37.
Emil J Thachil, Praveen Sreekumar, Hari Lakshmanan, Mohanan J Manjakara, Anoop Kanaran, Mohammed Musthafa, Sooraj K P, Ravindran C: An Unusual Cause for Pulmonary Metastasis. Calicut Medical Journal 2005; 3(3):e5.
Ravindran C, Suraj KP, Mohammed Mustafa, Harilakshmanan, Sajeev Kumar P, Yusuf Nasser: Hemangioendothelioma of Pleura- A rare neoplasm. Pulmon 2005,7:1:44-49.
Hari Lakshmanan P Evaluation of pulmonary impairment and disability; Pulmon. Vol 12. Issue 2. May - Aug. 2010.
Patel Varun, Darsana Viswam, Rajesh V, Mehta Asmita, Sethu Babu ,Hari lakshmanan,, "All that wheeze is not asthma" Pulmon; 2011:13,69-72.
Hari Lakshmanan Peruvemba, Rajagopal Thazhepurayil, James Ponneduthamkuzhi, Ravindran Chetambath: Clinical Prediction of Obstructive Sleep Apnea (OSA) in a Tertiary Care Setting. Journal of Clinical and Diagnostic Research. 2012 June, Vol-6(5): 835-838.
Indu M, lakshmanan H. Nocturnal hypoventilation – A case report. Ind J Resp Care 2014; 3(1): 415-7.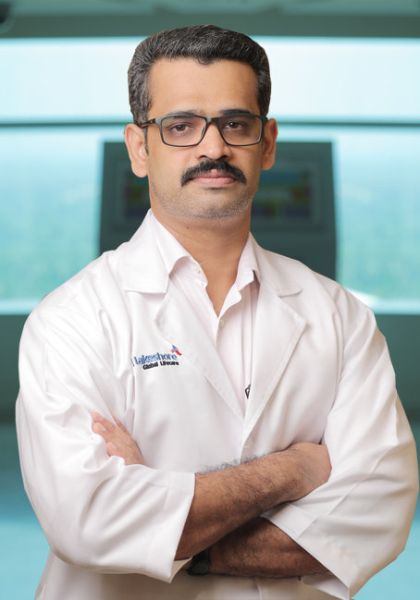 Dr. Hari Lakshmanan P
Senior Consultant