Accident & Emergency
99616 30000


Micro Biology
Best Micro Biology Laboratory in Kerala
The Department of Microbiology in VPS Lakeshore is part of the laboratory medicine and provide advanced laboratory diagnostic services for clinical management of infectious diseases caused by bacteria, fungi, viruses, and parasites, together with advice on the control of infections. The 3 main sections in the department, Bacteriology, Mycology, and Serology operate as an integrated unit. The department is headed by a Senior Consultant Clinical Microbiologist and is supported by an experienced Senior Registrar. The Clinical Microbiologists are available during the day and out of hours for diagnostic consultations as well as consultations on antibiotic therapy for the management of infectious diseases and plays an active role in monitoring and controlling hospital-acquired infections.
The laboratory is staffed with experienced and dedicated microbiologists specialized on testing clinical specimens for culture, isolation & identification of pathogenic organisms & antibiotic sensitivity testing as well as evaluation of serological samples for infectious diseases and autoimmune diseases. Stringent Quality Control measures are followed to ensure accuracy and precision in results and rapid turnaround time (TAT). Preliminary results and critical results arc informed by phone to the clinicians concerned when appropriate for the management of patients with serious infections.
The lab is integrated with the Hospital Information System (HIS) to facilitate immediate & efficient flow of information results to the clinician. The laboratory participates and performs well in National Quality Assurance schemes.

Around 2500 samples per month for direct smear & culture and more than 5000 blood samples/month are processed for serological tests for evidence of bacterial and viral infections (HIV, Hepatitis A, B, C, etc.) and immunological diseases.     
The microbiology laboratory operates 24 Hours every day. Although the core working hours are between 9 AM - 5 PM on weekdays, a team of staff is available to cover key areas during nights, weekends and public holidays, to perform urgent specimen processing and to provide timely and quality diagnostic services that enable outstanding patient care.
Dr. Molly Johny
Senior Consultant and Head of Microbiology
Qualification
MBBS, MD Microbiology, MSc Immunology
Experience



More than 40 years of experience in Clinical Microbiology, providing diagnostic & therapeutic services.

Worked as Head of Microbiology Unit and Consultant Microbiologist in Amiri hospital, Ministry of Health, Kuwait.

Has been teaching medical students and postgraduate trainees including MRCPath trainees.

Worked in Christian Medical College & Hospital, Vellore.

Worked abroad in hospitals such as IMVS, Royal Adelaide Hospital & Queen Elizabeth Hospital, Adelaide, Australia and the University of Alberta Hospital, Edmonton, Canada.

Underwent short periods of training in CDC, Atlanta, USA, UCLA hospital, Los Angeles, USA, London School of Tropical Medicine, UK and by visiting other centers in the USA.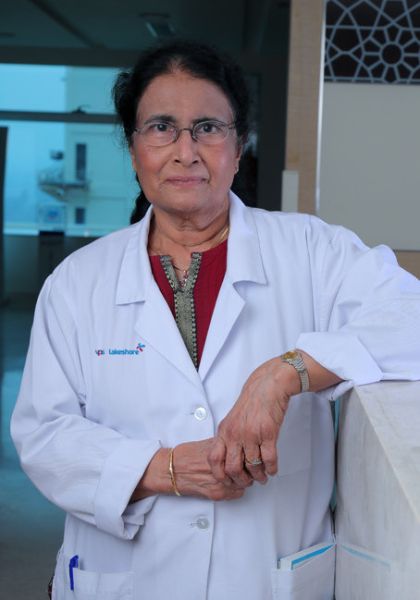 Dr. Molly Johny
Senior Consultant and Head of Microbiology