Accident & Emergency
99616 30000


General and Laparoscopic Surgery
Best Laparoscopic Surgery in Kochi
Laparoscopic or Minimally invasive surgery uses tiny cuts or incisions in the skin — or no cuts at all — rather than the large cuts often needed in traditional surgery. MIS includes both laparoscopy (surgery through small holes) and endoscopy (diagnostic and therapeutic procedures performed through the body's organs and existing openings).

There are many kinds of minimally invasive surgeries; each involves the surgeon using an endoscope or laparoscope. This is a thin tube with a light and tiny video camera at the end. The endoscope lets the surgeon see inside the body. The Surgeon inserts specially designed, thin instruments and sophisticated coagulation device to perform the operation
through the smaller opening. It's safer than open surgery. You'll recover more quickly, spend less time in the hospital, and feel more comfortable.
In traditional surgeries, a surgeon needs to make a large incision in order to operate, mainly to use many assistants hands to be inside the wound. To have a reasonable vision for the team, the cut has to be really big. Minimally invasive techniques only require two to three small incisions — usually 5 mm/10 mm and these port sites are the key to MIS. The high definition camera and lighting provide a clear vision for precise surgery.
There are many methods of minimally invasive surgery that have become the standard of care for a wide range of medical conditions, ranging from common medical issues to complex surgeries.
Key Highlights
SCARLESS ENDOSCOPIC THYROID REMOVAL - No Neck Scar

BARIATRIC SURGERY

INTRAGASTRIC BALLOON

KEYHOLE HERNIA SURGERY

DIABETIC SURGERY (RESOLUTION IN 90%) - Ileal Interposition (Hybrid)
Dr. R. Padmakumar
Sr.Consultant, HOD - MINIMALLY INVASIVE SURGERY (MIS)
Qualification
MBBS, DNB, MNAMS, DipALS, FAIS, FIMSA, FCLS, FRCS (GL)
Experience
Leading Obesity Surgeon in India & UAE.

More than 20 years of hands-on experience in Laparoscopic Surgery in major hospitals across India.
Other Information
Other Laparoscopic Surgeries Performed:
Appendectomy

Cholecystectomy

Low Anterior Resection for Colorectal Diseases (without having colostomy)

Cancer Surgery

Splenectomy

Adhesiolysis

Liver Biopsy
Other General Surgeries:
Varicose Vein Treatment

Diabetic Foot Management

Breast Surgery

Stapler Hemorrhoidectomy for piles

Advanced Treatment for fistula

Tummy Tuck for Abdominal apron

Flap repair for Pilonidal sinus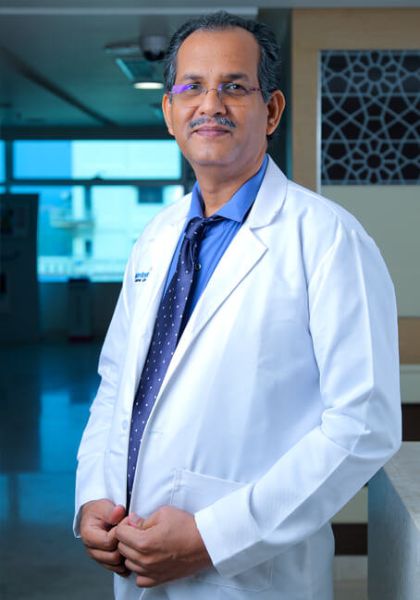 Dr. R. Padmakumar
Sr.Consultant, HOD - MINIMALLY INVASIVE SURGERY (MIS)