Accident & Emergency
99616 30000


Dermatology
Best Dermatology Department In Kerala.
Dermatology is bound to take care of the largest organ in the body - The skin. Skin diseases are very common and they tend to create a major impact on the life of individuals. The significance borne by Dermatological science today is immense. Early, proper diagnosis along with the recent advancements in treatment has resulted in better control of skin diseases, thereby improving the patients & quality of life.

At VPS Lakeshore, the department of Dermatology is a full-fledged treatment provider for all skin-related issues. Specialized in all skin, hair, and nail investigations and treatments, the department focuses also on Venereology (sexually transmitted infections) Medical Cosmetology, and Dermato Surgery. Cosmetic and Aesthetic medical treatments are provided by well-trained doctors, in a scientific manner.
The Key Highlights of the department procedures are:
Electrocautery - for warts and corn.

Radiofrequency ablation - DPN.

Chemical Peeling - Acne, Melasma, Black spots, Photo-aging, Wrinkles, Skin Rejuvenation.

Platelet Rich Plasma Therapy (PRP) - for hair growth, non-healing ulcers, acne scars,

stretch marks, and facial rejuvenation.

Intralesional injections - for Keloids (thick scars), and Alopecia areata (patchy hair loss).

Acne scar treatment.

Scooping.

Mesotherapy.

Comprehensive Allergy Testing - Type 1 (Food, Aero allergies) and Type 4 (Contact

Allergies).

Vitiligo Surgery

Dermato - Surgery

Injectables for Anti – Aging and facial Rejuvenation.

Cryotherapy
Dr. Abin Abraham Itty
Consultant & HOD Dermatology
Qualification
MBBS, MD (Dermatology), DNB (DVL), MNAMS.
Experience
Dr. Abin Abraham Itty is the Consultant Dermatologist and HOD of Dermatology at VPS Lakeshore, Kochi.

He has comprehensive training in General Dermatology, Cosmetology, Dermato-surgery, Pediatric Dermatology, Immuno-dermatology, and Allergy.

He is also specially trained in Laser Procedures, PRP Therapy and Injectables.

Formerly, he was the Asst Professor in Dept of Dermatology, Kannur Medical College, Kannur - A Post Graduate training Institution with active academics

Undergraduate & Post Graduate students apart from routine clinical responsibilities.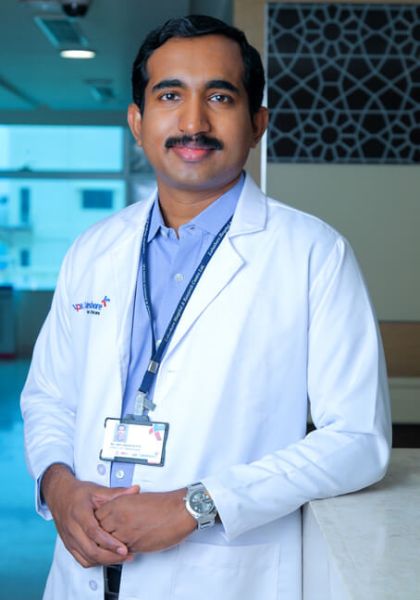 Dr. Abin Abraham Itty
Consultant & HOD Dermatology