Accident & Emergency
99616 30000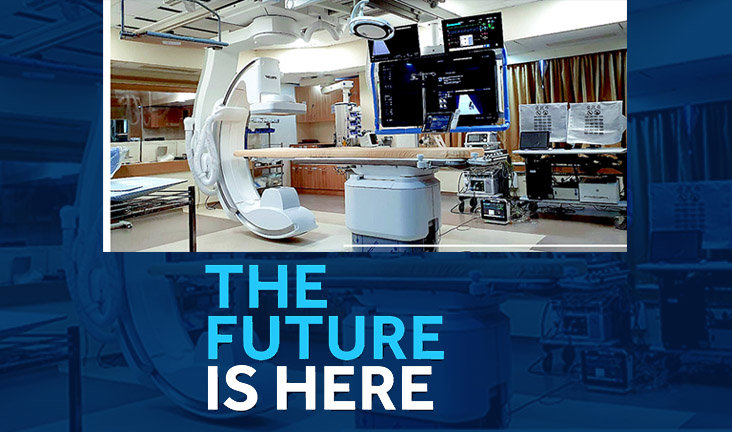 2021-06-07
VPS Lakeshore introduces world's most advanced Cath Lab first time in Kerala
VPS Lakeshore introduces world's most advanced Azurion 7M 20 Clarity IQ Cath Lab first time in Kerala.
Azurion 7M 20 Clarity IQ is currently the world's most technologically sophisticated model of cath lab which can perform advanced procedures to treat cardiac and neurological diseases. A technological revolution in the field of Interventional Cardiology, this technology was introduced in 2020 and is only used in a handful if hospitals worldwide. At VPS Lakeshore, we always strive to be in the forefront to introduce the latest technology for patient care and thus came the first installation of Azurion 7M 20 Clarity IQ in Kerala. This innovative version supports in delivering precise and finest care in diagnostic, interventional, and minimally invasive surgery procedures.




What is a Cath Lab?

A cardiac catheterization lab, or a "Cath Lab," is a particular hospital space where doctors carry out minimally invasive investigations and procedures to diagnose and treat cardiac and vascular diseases (a group of ailments of the heart and blood vessels). The cardiovascular diseases include coronary heart disease, cerebrovascular disease, peripheral arterial disease, rheumatic heart disease, congenital heart disease, deep vein thrombosis and pulmonary embolism and all of them require timely intervention for the patients to survive. In addition, treatment to prevent arrest of internal bleeding like embolization, coiling etc., are also done in Cath Lab especially for patients with brain bleeds or postoperative bleeds. A Cath Lab is equipped with advanced imaging machineries which enable the doctor to examine the arteries and check how well blood is flowing to and from the heart and diagnosis and treatment are decided according to that information. These minimally invasive procedures include angioplasty, stenting, etc., which are suitable alternatives to conventional surgery.




Unique Features of Azurion 7M 20 Clarity IQ

•

Dedicated Neuroradiology software

•

3D reconstruction for angiogram

•

Emergency CT facility

•

Advanced Cardiac Imaging with Dynamic Coronary Roadmap




Major Differences from Previous Versions

a) Wider field of vision (40 cm instead of 25 cm in the previous version) - can cover entire brain and entire liver in single frame, long coverage for coronary graft IMAGING and peripheral angiogram.

b) Coronory roadmapping for complicated heart blocks with very much reduced contrast (dye). This will significantly reduce renal complications.

c) 3D angiograms can be taken- extremely useful for brain aneurysm treatment.

c) 3-D roadmap facility

d) Basic CT scan can be taken with this cath lab.




This is particularly useful for:

•

Neuro cases to see if there is any suspicion of bleeding or stroke on table

•

TACE where Tumors are not seen on angiogram and aids to ensure whether the injection is in correct location

•

Prostate artery embolization where you don't want to have non target bladder embolization

e) Fusion with CT angiogram - projecting as 3D roadmap useful in interventional HEART valve replacement procedures and Intracerebral intervention.

With its advanced features, Azurion 7M 20 Clarity IQ offers considerable precision for accurate diagnosis and management of critically ill patients of variety of specialties.