Accident & Emergency
99616 30000


Qualification
MBBS, Post Graduate Diploma in Geriatric Medicine, DNB Family Medicine
Experience
Dr. Shobha P graduated from Tirunelveli Medical College and she completed her post graduation - DNB in Family Medicine from Lourdes Hospital, Kochi. She has also gained a Post Graduate Diploma in Geriatric Medicine from IGNOU. She is certified in the AHA's BLS, ACLS course.
She has worked in Dept of Internal Medicine, Dept of Obstetrics and Gynecology, Dept of Cardiology, Neurosurgery in various hospitals in Kochi, as Medical Officer. She was a lecturer in Dept of Community Medicine in Amrita Institute of Medical Sciences.
Dr. Shobha joined as Family Medicine Specialist, DNB academic coordinator and In Charge of Dept of Family Medicine in VPS Lakeshore Hospital in July 2015 after passing DNB. She is actively involved in the running of academic program of DNB Family Medicine in the Dept. 
She is an appraiser and examiner for National Board of Examinations and had attended the Faculty Development Program conducted by NBE in CMC Vellore and NBE's Workshop on Research Methodology in Kochi.
While having an OP, she is also working in the Executive Health Checkup of the Hospital due to her special interest in prevention and screening of diseases. Lifestyle Diseases is an area where she believes much can be done in prevention especially with right nutrition and exercises including Yoga.
Dr. Shobha's other area of interests are Primary Care Medicine and Community health activities, which includes organizing Health Camps and health awareness classes as part of Health Education.
Other Information
Publications:
Glycosylated hemoglobin values in nondiabetic pregnant women in the third trimester and adverse fetal outcomes. An observational study. http://www.jfmpc.com

Maternal and child health utilization in married women of age 15 – 45 years. J. Commun. Dis. 38(1) 2006: 102-105

Self reported morbidity and awareness regarding common cancers in elderly women. J. Commun. Dis. 38(1) 2006: 106-111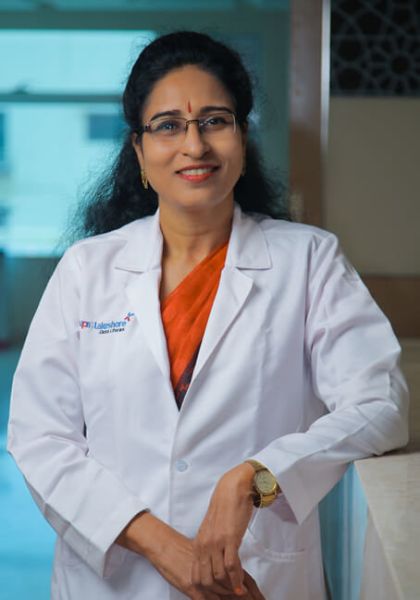 Dr. Shobha. P
Specialist - Family Medicine